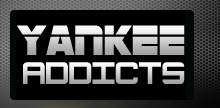 News published by
February 4, 2011
It's a sad day in Yankees Universe. Sad because the organization is now one step closer to being completely rid of all faces from the Yankee dynasty that lasted from 1996 ...
December 7, 2010
Think back to your high school years and all of the silly "relationships" you were in. How many times did you date someone for awhile before briefly splitting up, only ...
October 18, 2009
There were five other at bats that played out eerily similar to those of Alex Rodriguez's past postseason failures.  He came up empty in his first four plate appearances, where only ...