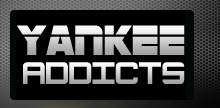 News published by
August 5, 2011
As the end to the MLB regular season draws near, each playoff contender is preparing itself for a lengthy postseason.Players, coaches and even fans know what's at stake when the ...
August 5, 2011
The MLB season is nearing its end.Teams have made their final adjustments via the July trade deadline and have seemingly found what works.However, the success of multiple playoff contenders going ...
July 8, 2011
As Derek Jeter approaches one of baseball's most heralded milestones, 3,000 hits, we need to slowdown the clock and realize what the New York Yankee shortstop has done for America's ...
May 21, 2011
The 2011 MLB season has already shown numerous ups and downs for some of the great players around the league through only the first two months of the year.High profile ...
April 18, 2011
With 27 World Championships, the New York Yankees have dominated the MLB for nearly 100 years.By employing some of the best hitters in the history of baseball, New York's continuing ...
April 13, 2011
Every year in baseball, surprising or not, we're witnesses to unorthodox outbreaks during the first few weeks of America's pastime.Quick hitting, hot pitching and all-around great play make-up ...
April 10, 2011
The Yankees are like that good-looking high school chick who seems to have it all, but there are always some underlying problems.With an explosive offense, solid defense and a top-of-the-rotation ...
February 10, 2011
It happens every year. Minor league players, sometimes as young as 18, are hyped up to be the "next big thing" in baseball.  As fans and fantasy baseball participants, we either ...