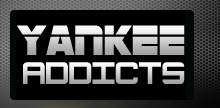 News published by
May 14, 2012
If it wasn't for Josh Hamilton playing like he's Roy Hobbs, Derek Jeter and his hot start would be the talk of the town in the American League. Jeter is defying ...
May 9, 2012
Derek Jeter has stepped into a pinstriped time machine and killed expectations as a 37-year-old so far in 2012.Jeter is an early AL MVP candidate and batting like he's playing ...
February 24, 2012
The New York Yankees and catcher Russell Martin are in talks for a new three-year contract. Martin was an All-Star in 2011 and the 29-year-old hit .237 with 18 home runs. ...