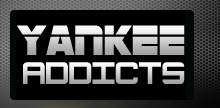 News published by
August 10, 2012
WAR (Wins Above Replacement) is today's go-to statistic used to determine just how much value a player brings to a team's win-loss record. Admittedly, it still confuses me, and not ...
August 3, 2011
The New York Yankees, who in recent years have been perennial trade deadline buyers, surprised most by standing pat on July 31. Despite what some believe to be ...
July 28, 2011
The New York Yankees enter the final few days before the July 31 trade deadline with one primary goal: to improve their pitching.The Bombers' rotation has not been too shabby ...
May 24, 2011
The New York Yankees have had a relatively strong season so far, spending most of 2011 in or around first place in the American League East.  Still, the road ahead ...
May 24, 2011
What a relief Sunday's rubber match between the Mets and Yankees was for the Bronx faithful.  Not simply because the Yankees took the third game of the series in resilient ...
August 15, 2010
I remember back in February 2004, when I first heard the news that Alex Rodriguez had been traded to the New York Yankees.  At the time, I was a soon-to-be ...