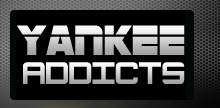 News published by
August 19, 2010
The New York Times said Thursday that Roger Clemens, one of the best pitchers of all time, will be indicted on charges of making false statements to the U.S. Congress ...
July 13, 2010
As I'm sure you all know, longtime Yankees owner George Steinbrenner has passed away from a massive heart attack. But in times of grief, humor is often the best medicine, ...
May 3, 2010
We have nearly a month of baseball in the books and many hairs have turned gray (if they haven't been pulled out) on fantasy owners of these 10. These 10 ...
March 9, 2010
Another Oscar night filled with people who are completely useless to society explaining their thoughts and ideals to it while holding a golden naked man has passed, but the quest ...
November 4, 2009
Please tell me Cub fans and the media aren't going to talk about how Joe Girardi is about to win the World Series and how the Cubs passed on him ...
August 27, 2009
Just as they did last year with Dustin Pedroia, ESPN has begun their campaign for Derek Jeter for MVP; dropping his name any chance they get when discussing MVP candidates.  Baseball ...
July 28, 2009
As I sit editing articles on Bleacher Report, my ears begin to wiggle a bit as the guitar of Jimi Hendrix engulfs them—and for a moment—I forget what I'm even ...
July 3, 2009
Clutch: the word that is tattooed into every idiotic baseball fan's vocabulary, and into the ears of every intelligent baseball fan during an argument regarding a player's talent.  Why is it ...