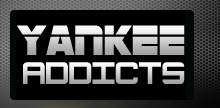 News published by
July 3, 2010
This list, from the perspective of a Yankee fan, ranks the team's 2009 postseason victories, with No. 1 being the most clutch/dramatic win. The Yankees defeated the Twins in three ...
August 12, 2009
Here are, in my opinion, the top ten major league stadiums to watch and experience a postseason game, either on television or in person. Some of these may not be ...
June 29, 2009
Though the Yankees' five-game winning streak has come against an offensively-challenged Atlanta team and a hapless and banged-up bunch of Mets, a number of occurrences over the past week should ...