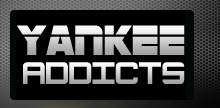 News published by
July 29, 2011
The title of this slide show may lead many to believe that I am not a fan of Ubaldo Jimenez. That couldn't be further from the truth.I think Jimenez is ...
April 4, 2011
To say Mark Teixeira struggled last April would be an understatement. Teixeira has always been a slow starter, but his .136 batting average, two home runs and nine ...
February 2, 2011
It's the second day of February, and the Super Bowl is just four days away, meaning baseball is right around the corner (pitchers and catchers report in about two weeks). ...