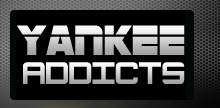 News published by
December 10, 2013
Curtis Granderson has a parting shot for the New York Yankees. At least that's what many people gathered from his press conference that introduced him as a member of the New ...
December 5, 2013
The New York Yankees have been the biggest winners in the offseason thus far, signing free agents Jacoby Ellsbury and Brian McCann. However, the news hasn't been great over the last ...
November 5, 2013
The New York Yankees are preparing for life after Robinson Cano, or so it seems. According to CBS Sports' Jon Heyman, the Yankees have made contact with the Cincinnati Reds about ...
October 24, 2013
Mariano Rivera may have suited up for the last time, but Major League Baseball continues to find ways to honor the greatest closer ever. Rivera was honored by MLB commissioner Bud ...
September 26, 2013
Yankee Stadium has seen its last of Mariano Rivera, the best closer in MLB history. Rivera came into the game with one out in the eighth inning to help get the ...
September 26, 2013
Robinson Cano wants to be the highest-paid player in MLB at over $300 million over 10 years. According to ESPN's Buster Olney (Insider subscription required), Cano is seeking a deal worth $305 ...
September 17, 2013
Alex Rodriguez has admitted that New York Yankees teammate Mariano Rivera is his role model. According to XM MLB Chat, Rodriguez described what it was like to compete against and play with ...
September 12, 2013
The news continues to get worse for the New York Yankees. Brett Gardner left Thursday's game against the Orioles with a left oblique strain, according to ESPN New York's Wallace Matthews:  Gardner ...
September 10, 2013
In a surprising move, the New York Yankees acquired shortstop Brendan Ryan from the Seattle Mariners. While Ryan won't be eligible for the postseason because he wasn't with the Yankees on ...
September 10, 2013
The New York Yankees once again will be footing the highest luxury tax bill in baseball, this year at $29.1 million. As reported by USA Today's Bob Nightengale, the luxury tax ...