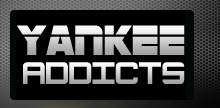 News published by
April 27, 2011
I don't know if you guys caught the preview of Ian O'Connor's book, The Captain: The Journey of Derek Jeter, on ESPN, but it provided a really interesting glimpse into ...
April 15, 2011
Due to technical difficulties, like my brain not working this morning, there will be no post until later. I'm really sorry. CDTF fail, I know. I ...
March 31, 2011
It's Opening Day! And CDTF will be at Yankee Stadium to see it all go down. I just picked up my press pass (printed my tickets from StubHub) and texted Derek ...