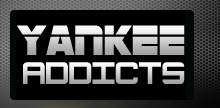 News published by
May 16, 2013
There has been an increasing movement on social media to urge Jim Leyland to select famed Yankees reliever Mariano Rivera as the starter for this summer's All-Star Game.  Most of the push ...
July 23, 2012
It's being reported by ESPN that 38-year-old Japanese baseball player Ichiro Suzuki has been dealt to the New York Yankees.It's clear how Ichiro's presence will affect the Bombers: they get a ...
August 15, 2011
ESPN seems to go crazy whenever Mariano Rivera blows a couple of saves, as he did last week.  But here's why it's not a big deal.For one, there is only ...
July 9, 2011
New York Yankees shortstop Derek Jeter became the 28th player to make it to 3,000 hits this afternoon. And I'm here to tell you why this isn't a good thing. 3,000 doesn't ...