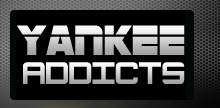 News published by
September 9, 2011
Not only am I a Yankee fan, I am also a numbers fan.  The thing I love most about baseball is that there are stats that can be used to ...
September 7, 2011
At this point in the season, the New York Yankees' Ivan Nova has to be seen as the clear front-runner for AL Rookie of the Year.  There aren't any legitimate ...
September 2, 2011
With roughly one month remaining in the MLB regular season, the AL MVP race is still quite a mess.Jose Bautista has the support of the sabermetric community, the Red Sox ...
August 31, 2011
It's that time of year again in Major League Baseball.  Rosters expand from 25 men to 40 on September 1, and with that comes numerous September call-ups as teams who ...