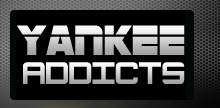 News published by
March 11, 2011
In 2007, Russell Martin won a silver slugger and was generally considered one of the best catchers in the game. Since then, it has been a long steady fall from ...
March 7, 2011
This week on "Remember When…." We are going all the way back to the early Nineties when a 25 year-old kid came up for half a season to turn the ...
February 11, 2011
According to the Minneapolis Star-Tribune: "With six pitchers vying for five spots in the Twins starting rotation, one possible solution is trading Franciso Liriano. Speaking to team officials recently, ...
February 10, 2011
After finishing in second place last season and not adding another world championship to their collection, the popular thought was that the Yankees would reload over the offseason. All signs ...