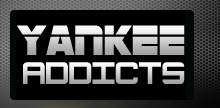 News published by
December 21, 2010
The off season was full of dramatic free agent signings including the Phillies swooping in and signing former Cy Young Cliff Lee to add to their Big 4. Many of ...
September 20, 2010
In one line I will say this: Anything but a World Series in the year of the loss of George M. Steinbrenner, would be a disappointment.  The best and highest paid ...
September 8, 2010
Marty Appel was the Public Relations Director for the New York Yankees from 1973 to 1977. After resigning as the PR Director in 1977, he began a sports management company ...
June 14, 2010
Rick Cerone was a New York Yankees catcher. When Thurman Munson died, Rick Cerone was his replacement. He played for 8 teams in 18 seasons and played in the 1981 ...