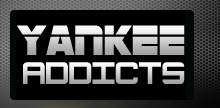 News published by
February 7, 2011
I attended my first game at the "new" Yankee Stadium last summer, folks; it's hard to believe the "old" one has been leveled and the reality of the whole thing is still sinking in. It was called ...
February 6, 2011
He wasn't the next Mickey Mantle. He wasn't as talented as Bobby Bonds, the man he was once traded for. And he'd be surpassed as a ballplayer by a young ...
February 2, 2011
Looking back, I'd have to say that Phil Rizzuto was the "voice" of my youth. It was the "Scooter's" unmistakable, high-pitched voice that would be resounding throughout the steamy living ...