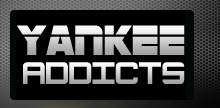 News published by
November 19, 2012
The New York Yankees are known for making huge signings during the offseason like CC Sabathia, AJ Burnett and Mark Teixeira in 2009.However, the Yankees should prevent themselves from making ...
October 29, 2012
The New York Yankees head into the offseason with a lot of questions unanswered. Will Alex Rodriguez eventually be traded? What free agents will be signed? Will Joe Girardi lose ...
September 30, 2012
The MLB postseason begins in a few days and all three American League divisions are still to be decided.If Bud Selig and Major League Baseball wanted to make the end ...
May 4, 2012
It was the injury heard around the world. Well, at least the baseball world.Mariano Rivera tore his right ACL and meniscus while shagging foul balls before the game Thursday night.First ...