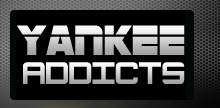 News published by
February 4, 2011
Andy Pettitte announced his retirement from baseball at Yankee Stadium today, bringing an end to a 16-year career that saw him a 240-138 record between his time with the New ...
October 20, 2010
The New York Yankees ensured there would be at least one more game in this year's ALCS with a 7-2 victory over the Texas Rangers in Game Five at Yankee ...
October 6, 2010
Statistics can prove anything, but more often than not, they mean nothing. I enjoy bits of trivia, not because I want to win a bet with my friends, but because ...
June 20, 2010
For the third time this season, Johan Santana served up a home run with the bases full, as C.C. Sabathia and the Yankees took the rubber game of a three-game ...
December 11, 2009
If you were looking to choose your greatest ever Yankee lineup, based on single-season offensive performances, where would you start? For a team that would field 15 Hall of Famers and dozens ...
October 31, 2009
Alex Rodriguez broke out of his World Series slump with a two-run home run, and Andy Pettitte picked up his 17th career playoff win as the Yankees won Game Three ...
October 29, 2009
Wily. Deceptive. Vintage. And I'm not talking about Pedro Martinez. Just 24 hours removed from Cliff Lee's Game One masterclass, AJ Burnett pitched a gem of his own to send the Yankees ...
October 20, 2009
If playoff baseball has the best umpires in the business, there is something very wrong with the business. In a postseason that has already seen a number of gaffs, the six-man ...
October 20, 2009
Alex Rodriguez connected on his fifth home run of the postseason and CC Sabathia dominated the Los Angeles Angels on short rest as the Yankees won 10-1 to move one ...