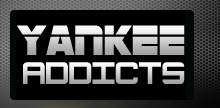 News published by
March 5, 2012
As a Yankees fan, every season is "World Series or bust."The Yankees had the best record in the American League last year, winning the division, and cruising right into the ...
December 17, 2011
The Yankees need pitching. Their rotation consists of ace C.C. Sabathia, Ivan Nova and then three question marks in A.J Burnett, Phil Hughes and Freddy Garcia.The Yankees struck gold last ...
October 1, 2011
When the regular season started, the easy favorites were the Philadelphia Phillies and Boston Red Sox. They had it all: the pitching, the hitting, the bullpen, you name it.But now ...
September 30, 2011
Both the AL East winner and the AL Central winner will face off for the next few days, with Game 1 starting tonight at 8:37 PM. Both teams had great ...
September 14, 2011
With all the money the Yankees spend, there will be some contracts that are considered busts, most notably Carl Pavano.The Yankees signed Pavano after a great season with the Marlins, ...
June 11, 2011
Since the beginning of baseball, there have been players who have had mind boggling, amazing, record-breaking seasons. Babe Ruth, Barry Bonds, Alex Rodriguez, and Ted Williams are some of the ...
June 7, 2011
Current New York Yankee ace CC Sabathia has had, and will have, a great career. A common question that people wonder is, will he make the hall of fame?Sabathia is ...
June 3, 2011
At exactly 54 games played this year, the Yankees have competed in exactly one-third of their games. They have a record of 31-23 and lead their division by three games, above ...