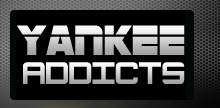 News published by
March 15, 2011
One of the latest rumors coming out of New York Yankees spring training is who will be the leadoff hitter in the batting order. Will it be veteran shortstop and ...
March 2, 2011
Only 10 percent of the population is left-handed. Despite a world against us (looking at you notebook spirals), being left-handed has its advantages. One place in particular is on the ...
February 9, 2011
Alex Rodriguez is always in the news. It used to be because of his talent, but that changed at some point. Now, sometimes he is in the news for the ridiculous things ...
February 3, 2011
One of the biggest parts of MLB Spring Training is determining who will be the starters. As usual, there are a lot of tough position battles this year. A lot ...