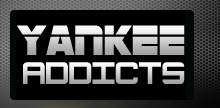 News published by
September 30, 2010
For the 15th time in 16 years, the Yankees are going to the playoffs. After CC Sabathia delivered 8.1 innings of one-run ball for his league-leading 21st victory Tuesday night, ...
July 26, 2010
Trade speculation surrounding the Yankees in recent days has centered on starting pitching, but their most pressing need is bullpen help.   With Joba Chamberlain continuing to falter in the all important ...
July 13, 2010
George Steinbrenner wasn't the richest owner in sports, but he was undeniably the most passionate about winning. The most polarizing figure in baseball throughout his 37-year tenure as Yankees' owner, ...
June 10, 2010
Javier Vazquez is a free agent after this season, but a reminder of his acquisition may haunt the Yankees long after he's gone. Arodys Vizcaino, the 19-year-old former Yankees pitching prospect ...
June 6, 2010
The NBA Draft is always a much anticipated extravaganza, while the NFL's selections are so heavily scrutinized that they've been thrust into prime time. On the eve of the 2010 MLB ...
May 17, 2010
Players often fail to live up to their reputations when thrust into the bright New York spotlight.   In this case, the Yankees got exactly what they paid for when they signed designated ...
May 10, 2010
Despite a long list of nagging injuries and struggling superstars, the Yankees have not only managed to stay afloat throughout a trying period but have amassed the second best record ...
May 2, 2010
If Yankees' GM Brian Cashman purchased Nick Johnson and Javier Vazquez at a department store, he would be frantically searching for his receipt right now. Sorry, no returns.   As the calendar ...
April 30, 2010
Robinson Cano finally gets it, and now he is assaulting opposing pitchers.   The immensely talented second baseman has been beset by immaturity and lackadaisical play at times in the past, but ...
February 22, 2010
For the first time in decades, financial constraints may have hampered the Yankees.   Whatever the cause, the Yankees enter 2010 as an inferior team. At least one compared to the unit ...