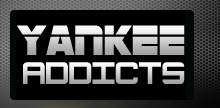 News published by
July 23, 2012
Ichiro Suzuki has been a Seattle Mariner his whole career.He has won multiple Gold Gloves. He won both an MVP and Rookie of the Year award in the same season. ...
July 21, 2012
The New York Yankees are rich in history and records. Robinson Cano can soon be on his way to adding his name to the records list.In 1941, "Joltin" Joe DiMaggio ...
July 8, 2012
When Mariano Rivera went down with a torn ACL, every Yankees fan (including myself) thought they were doomed. Many assumed David Robertson would take over the closer role, considering his dominance ...