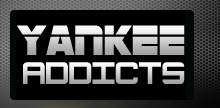 News published by
May 17, 2011
In 1951, three-time MVP and future Hall of Famer Joe DiMaggio had the worst year of his career. He knew he was done and he retired gracefully as one of ...
February 1, 2011
No team is perfect.Even with a starting rotation of Halladay, Lee, Hamels and Oswalt, the Phillies are not a lock for the Fall Classic.The Yankees won the World Series two ...
January 11, 2011
With Boston's offseason spending spree and Tampa Bay's everything-must-go jumble sale, one can make a pretty good stab at how the AL East will play out in 2011. The Yankees and ...
October 14, 2010
They play in buildings separated by less than three miles, but in terms of their general managers' attitudes to free agents, the Red Sox and Bruins are worlds apart. In the ...
July 1, 2010
Today is the final day of balloting for the 2010 MLB All-Star Game. If it had ended yesterday, Justin Morneau would be AL's starting first baseman in Anaheim. He's garnered 2,118,654 ...
May 18, 2010
With the Red Sox and Yankees meeting again this week, here's my rundown of the best moments of the past decade in baseball's greatest rivalry. There are any number of moments ...