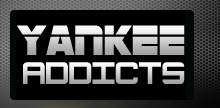 May 11, 2009 · Gregory Pearsoll · Jump to comments
Article Source: Bleacher Report - New York Yankees
With the Jays continuing to win, crushing weak teams such as the Indians, the Athletics, the Tigers and others, the team has managed a 22-12 record, the best record in the AL, second in MLB next to the Los Angeles Dodgers.
However, the real test begins this week, as the Toronto Blue Jays face the dreaded New York Yankees.
The Yankees, who were widely expected to be a top team in the league, have struggled due to lousy pitching and underperformance by highly paid stars A.J. Burnett, CC Sabathia, and Mark Teixeira.
In addition, Chien-Ming-Wang's injury, along with continued struggles by Phil Hughes in his place have been a drag on the team, causing their record to be a disappointing 15-16.
PITCHING LINEUPS FOR THE SERIES
A.J. Burnett (2-0, 5.26 ERA) vs. Roy Halladay(6-1, 3.29 ERA)
Andy Pettitte (2-1, 4.38 ERA) vs. Scott Richmond (4-1, 3.29 ERA)
CC Sabathia (2-3, 3.94 ERA) vs. Brian Tallet (2-1, 4.95 ERA)
For this series, the Jays will likely be favored for this series. Halladay has pitched very well in his last few starts, and in his last start against L.A., he looked like he was in mid-season form.
Brian Tallet had a strong outing on Saturday, allowing only two hits and one run against Oakland.
Scott Richmond has been very strong, despite his complete game loss in Oakland on Friday, due to the good pitching of Oakland, which made it difficult to score.
WHY THE JAYS WILL WIN
1. Struggles in the Yankees Rotation and Bullpen
The Yankees have struggled with their rotation, with the team near the top of the league in ERA- the bad way. The Yankees are second last in the AL, with a 5.79 ERA, just below Cleveland's 5.83 ERA.
Part of this has to do with Phil Hughes & Chien-Ming Wang's struggles and the lousy bullpen, with lousy arms such as Jose Veras, Edwar Ramirez and Johnathan Albaladejo.
In comparison, the Jays are 4th in the league at a 4.11 ERA with a strong bullpen. We could be tops in the league, had it not been for starts by David Purcey and Brian Burres.
2. Still the best hitting team in the league
The Jays still lead the AL in hitting, with a .294 AVG and 366 hits. We also lead in runs, at 204. Our on-base percentage is 2nd to Boston, at .361(Boston- .371).
3. Un-clutch hitting
The Yankees have struggled badly with RISP, which has limited RBI opportunities, despite hitting .273 and having 130 BBs, fifth in hitting and third in walks.
4. Improvement in Jays' RISP
We have improved in our hitting recently, cutting down on our double-play balls, which has allowed us to drop our ranking to third in GIDPs. (No. 1 is Boston and Seattle, tied at 35, compared to our 34.)
We are also second in extra-base hits, at 125 (No. 1 is Texas at 126) In addition, we lead in sacrifice flies, at 13 (Yankees have eight), showing that we are cashing in with runners at third and getting the ball deep into the outfield.
5. No Posada or Molina
Without Jorge Posada or Jose Molina, the Yankees are forced to turn to minor-leaguers Francisco Cervelli and Kevin Cash. This could hurt the offense, and depending how the pitchers respond, could hurt the pitching as well.
6. Not deep in the heart of Tex
Currently hitting .198 with 7 HRs and 17 RBIs, Teixeira has struggled in New York. He needs to get hot soon if the Yankees want to see success.
WHY THE YANKEES WILL WIN
1. Damon's hot!
.314 AVG, 9 HR. He has paced the Yankees offense in recent games. Whether this number has been inflated by the New Yankee Stadium is questionable.
2. A-Rod's back
Alex Rodriguez is healthy and back in the lineup—but will he hit enough to help the Yankees?(currently hitting .182 with 1 HR and 3 RBI)
3. CC Sabathia
Which version of CC Sabathia will we get? The one in Baltimore or the lousy one?
4. Will Robinson Cano keep hitting?
Slowing down, but Robbie Cano still has a .321 AVG with 6 HR and 18 RBI. Can he keep it up?
5. Is Brian Tallet's numbers a fluke?
Has pitched reasonably well, except for the Kansas City game. Can he keep up his success?
PROJECTION
Jays will take two of three at least. With the unpredictability of A.J. Burnett, along with the HR problems of Andy Pettitte, along with the inconsistency of CC Sabathia, unless the Yankees hit, it may be difficult to win against the Blue Jays.