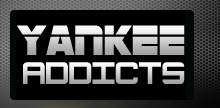 March 16, 2010 · Mike A · Jump to comments
Article Source: Bleacher Report - New York Yankees
Talent is overrated.
Derek Jeter is not the most talented baseball player since 1980. In fact, he shouldn't even be in the conversation.
However, talent can be improved upon with practice; excellence cannot.
That's is really the only word we can use to describe Derek Jeter's career: excellent.
Derek Jeter has been blessed with this excellence since the day he learned to grip a baseball, but nobody, including Jeter himself knew of it.
They say, "There are three types of baseball players: Those who make it happen, those who watch it happen, and those who wonder what happens." I promise you nobody makes it happen quite like Derek Jeter.
Logic is reason or sound judgment.
Derek Jeter made plays that defied logic.
Whether he was diving face first into brutal metal seats to catch a pop-up or sprinting across the entire field to cut off a ball and save a game, Jeter did things that no other baseball player would ever have the presence of mind to do. Which is what truly made him great.
Presence of mind is best defined as the ability to think quickly and efficiently in an emergency.
Nobody in the history of sports has ever had presence of mind on the level that Derek Jeter does.
Who could ever forget the 2001 ALDS when the Yankees (at the time trailing 2-0 in a five game series) won Game Three by a score of 1-0? Derek Jeter made the most heads-up play in baseball history which would save the game, series and playoffs for the Yankees. There are no words that can describe this play.
If you haven't seen it yet (you must be living under a rock if you haven't), then please watch it because it will never happen again (video below).
<object width="425″ height="344″><param name="movie" value="http://www.youtube.com/v/yyQXXn9vqvs&hl=en_US&fs=1&"></param><param name="allowFullScreen" value="true"></param><param name="allowscriptaccess" value="always"></param><embed src="http://www.youtube.com/v/yyQXXn9vqvs&hl=en_US&fs=1 &" type="application/x-shockwave-flash" allowscriptaccess="always" allowfullscreen="true" width="425″ height="344″></embed></object>
Another one of Jeter's distinguishing characteristics would be his passion for the game.
Passion is best defined as a compelling emotion or feeling.
Nobody has ever had passion for the game of baseball quite like Derek Jeter. Never again will anybody have passion for the game of baseball quite like Derek Jeter.
To Derek Jeter baseball is more then a game which is why he will always put his body on the line just to come away with the "W."
Nothing means more to Derek Jeter than winning.
Don't want to take my word for it? Here are Jeter's exact words, "If you're going to play at all, you're out to win. Baseball, board games, playing Jeopardy, I hate to lose."
He will put his body on the line at any time. In today's game more baseball players value a healthy paycheck before winning.
Not Derek Jeter.
How many baseball players have you seen since 1980 that would run full speed for a pop-up, then with all that impact dive into a vicinity full of only spectators and sharp metal?
I know one, and his name is Derek Jeter.
Above every characteristic that Derek Jeter possesses the most impressive is his leadership.
Has there ever been a better leader in the history of baseball then Derek Jeter?
He is the only big name in recent New York Sports memory that can stay out of the tabloids. Jeter provides an example for all to follow. How he manages to stay out of the news in Tabloid City, USA, I don't know. Whatever it is, his teammates should all follow.
Jeter does all the right things and has never said a bad thing to a media member or teammate in his life. Jeter is one of only 13 captains in the history of the most successful franchise of all time. He could also be the last.
Jeter may be the most beloved man in a city that so many love to hate.
He has never been linked to steroids in his career and never will.
He is a role-model in a sports world which has so few.
There will be another Mark McGwire.
There will be another Alex Rodriguez.
I promise you, THERE WILL NEVER BE ANOTHER DEREK JETER.
Never again will we see an athlete with half the presence of mind of Jeter.
Never again will we see a player with passion like Derek Jeter.
Never again will we see a leader like Derek Jeter.
They say practice makes perfect, but no amount of practice will ever make you Derek Jeter.
Read more New York Yankees news on BleacherReport.com