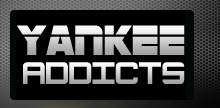 October 28, 2010 · Larry Barnes · Jump to comments
Article Source: Bleacher Report - New York Yankees
You hear a lot of names mentioned as possible offseason targets for the New York Yankees. Cliff Lee, of course, gets more attention than anybody else, and rightly so. Then there are guys like soon-to-be free agent outfielders Carl Crawford and Jason Werth. Even names like Zack Greinke and Johnny Damon have received some play.
But one you never hear that might make a lot of sense is catcher/first baseman Victor Martinez. This is 100 percent pure speculation, but here's why we think Victor Martinez-to-the-Bronx makes sense.
1) The Yankees are, according to multiple reports, ready to move Jorge Posada to more of a full-time DH role in 2011, which happens to be the final year of his current contract.Yankees 'n More
2) Most people who follow this team believe the Yankees will attempt to break in top prospect Jesus Montero as their major league catcher of the future next season. If they do, they will need something more substantial than Francisco Cervelli in reserve.
3) Brian Cashman and the Yankees LOVES them some switch hitters (Mark Teixeira, Nick Swisher, Lance Berkman, Jorge Posada, Bernie Williams…) and Martinez is one of the very best in the game today.
4) While Martinez is not a great defensive catcher by any stretch, he's at least as good as Posada is, and the Yankees obviously don't emphasize defense at catcher. If they did, Posada would have been replaced long ago.
5) Martinez also gives the team some versatility/insurance at first base in the event of Teixeira being forced to again miss time with injuries or the like.
6) If 2011 marks the final season in pinstripes for Jorge Posada (and you have to think there is a good chance it does), Martinez transitions nicely into a fulltime, switch-hitting designated hitter role starting in 2012, when one would certainly hope at least one of the truck load of talented catchers in the system is ready to take over full time.
7) Signing Martinez takes him away from the Boston Red Sox, leaving them with another hole to fill.
8) Martinez was the regular catcher for both CC Sabathia and Cliff Lee when all three were together in Cleveland.
No doubt the Yankees are going after Cliff Lee with both barrels this offseason. And we would not be the least bit surprised to see them make a run at Carl Crawford, as well.
But don't go to sleep on Victor Martinez. You might wake up one Winter morning to find out he just signed a contract with the New York Yankees.
Read more New York Yankees news on BleacherReport.com