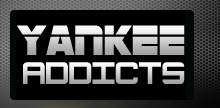 April 28, 2009 · Rob Abruzzese · Jump to comments
Article Source: Bleacher Report - New York Yankees
Coming into tonight's game, Phil Hughes had not won a major league baseball game since September 27, 2007. Since that time he's dealt with injuries and erratic location and forced the Yankees had in spending about $240 million in pitching this past offseason.
Well Hughes barely makes over the league minimum, $407,650 actually, but he certainly pitched as good as any of his much richer teammates. Filling in for Chien-Ming Wang, who is on the DL, Hughes earned his first victory when he tossed six innings of shutout baseball allowing just two hits, two walks, and six strike outs.
If Hughes can keep this up the Yankees are going to have to make an interesting decision concerning his future. If Hughes follows up tonight's performance with another big outing it's going to be hard on the front office to send him down.