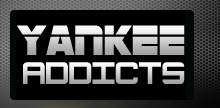 February 6, 2013 · Colin Tansits · Jump to comments
Article Source: Bleacher Report - New York Yankees
As with all MLB teams, the New York Yankees are getting ready for the beginning of spring training.
With less than a week until the official beginning of preseason baseball, the Yankees find themselves with a few new faces.
Kevin Youkilis highlights the new group of players that GM Brian Cashman has brought in to fill the team's holes.

Looking back at the 2012-13 offseason, a mixture of cautious moves and missed opportunities has led to New York's spring training roster.
Cashman did what was necessary to field a team in 2013—nothing more, nothing less.
Amongst the major deals received by Zack Greinke and Josh Hamilton, New York had other opportunities to bring in players to improve the team.
Here are three of New York's biggest missed opportunities from the past few months.