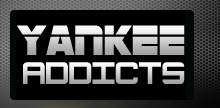 December 28, 2011 · Bill Ford · Jump to comments
Article Source: Bleacher Report - New York Yankees
All Yankee fans remember Paul O'Neill. Young children who never saw him play have heard about him and know how essential he was to the Yankee dynasty in the 1990s to 2001.
O'Neill was traded from the Reds to the Yankees in November of 1992. In 1995, the Yankees made the postseason for the first time in fourteen years and continued to do so for the rest of O'Neill's career with the Yankees. He played a key role in helping the Yankees win the World Series in 1996, 1998, 1999 and 2000.
During his seventeen year career, O'Neill hit 281 home runs, 1,269 RBIs, 2,107 hits and his career batting average was .288. In 1994, he won the American League batting title with a .359 batting average. To top that off, he played in five All-Star games in 1991, 1994, 1995, 1997 and 1998.
In 1999, he played in Game 4 of the World Series only a few hours after his father died. Paul O'Neill was well-known as being the heart and soul of the New York Yankees during his time. His passion for the game was palpable.
O'Neill's passion sometimes led to some emotional outbursts, but most fans loved him for those outbursts. His emotions occasionally led to the unfortunate demise of an innocent water cooler, or baseball bats being thrown onto the field. Some criticized him for his actions, but most loved him for the passionate display.
O'Neill was a powerful hitter and demonstrated incredible fielding ability. He could be his own worst critic at times, but always played the game with his heart on his sleeve. Yankee fans will never forget him for the athlete, the fielder, the hitter and the Yankee that he was for New York.
Paul O'Neill was an historic gem in NY. His No. 21 should be retired in his honor and his eternal memory. In 2008, Yankees relief pitcher LaTroy Hawkins briefly wore the No. 21. Yankee fans criticized him, and he quickly changed his number to 22. He understood the deep feelings that New Yorkers had for the No. 21 and respected those feelings with dignity.
Other than those brief couple of weeks, no Yankee has worn the No. 21. Paul O'Neill's No. 21 is just that—Paul O'Neill's. The New York Yankees should officially retire the No. 21 now and give that well-deserved honor to O'Neill. Allow him to experience and enjoy that honor.
The time has come. Retire No. 21.
Read more New York Yankees news on BleacherReport.com