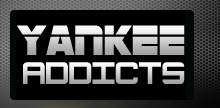 February 11, 2013 · Kenny DeJohn · Jump to comments
Article Source: Bleacher Report - New York Yankees
Curtis Granderson is entering the final season of his contract with the New York Yankees, and questions regarding his status on the team for the future have been floating about all offseason.
Some have suggested trading him midseason to gain prospects before he leaves via free agency, and others have suggested keeping him for the 2013 season in hopes that he can produce the numbers he did during the 2011 season.
Here's a thought, though, introduced by Granderson himself—why don't the Yankees extend him (via Andy McCullough of the Star-Ledger)?
Granderson says that he's open to an extension with the Yankees but, then again, who wouldn't be?
Hitting coach Kevin Long has turned Granderson into a legitimate power threat from the left-handed batter's box, and what left-hander wouldn't want to poke baseballs over that short right field porch in Yankee Stadium?
He has hit an impressive 84 home runs over the past two seasons, albeit with a decline in several other categories. While this power makes him useful to nearly any team in baseball, some numbers can be deemed worrisome.
For instance, he struck out 195 times in 596 at-bats. He also stole just 10 bases, as compared to 25 in 2011. His .232 batting average was the lowest of his career.
No longer is he one of the most complete offensive threats in the game. In 2007, though, he put together arguably the most well-rounded season in MLB history.
Just take a look at his statistics:
.302/.361/.552, 38 doubles, 23 triples, 23 home runs, 74 RBI, 26 steals (just one caught stealing), 185 hits
It doesn't appear as if Granderson is capable of producing such a line again. The new swing that he and Long worked on has turned him into a swing-for-the-fences guy. While useful on many teams, the Yankees should be looking to lock up all-around guys—like Robinson Cano, perhaps.
Extending a guy nearing the end of the prime of his career that is pretty much one dimensional offensively is a bad strategy for general manager Brian Cashman. He and the Yankees are already notorious for handing out bad contracts—need I reveal the culprit?—and extending Granderson could just qualify as another example.
Prospects-wise, it's also a bad idea.
Trading him midseason (or earlier) could net the Yankees pretty decent prospects that could eventually supplant him in the outfield.
Plus, there are prospects in the team's system that are on their way to the bigs.
Mason Williams and Slade Heathcott are a few seasons away, but guys like Zoilo Almonte and Tyler Austin have the potential to play with the Yankees at some point next season.
Almonte was huge hit in spring training last season and performed very well at Double-A Trenton last season. He hit 21 home runs and drove in 70 while producing a line of .277/.322/.487. He also has experience at all three outfield positions.
Austin, on the other hand, is widely considered one of the best prospects in the system and could be on the fast track to the bigs.
He made it to Trenton by the end of last season, and put together some gaudy numbers. His line of .322/.400/.559 displayed his consistency at the plate, while his 17 home runs and 80 RBI displayed his capability to drive in runs.
Oh yeah, and he stole 23 bases.
There's no guarantee that either player will perform when they first make it to the bigs, but both have the potential to be very good players.
The Yankees need to get younger, and dealing Granderson to gain prospects and give one of the two aforementioned guys a shot would be a nice step in the process.
Given Granderson's numbers and the talented outfield prospects in the system, I don't see an extension likely.
While his value may not be at its highest, Granderson is one of the team's best trade chips. When trying to get younger, trading vets for prospects is important—especially when they're due for a pay raise in the near future.
You can never rule out the possibility, though, especially with a team like the Yankees. I pin a Granderson extension at about a 25 percent chance.
Read more New York Yankees news on BleacherReport.com