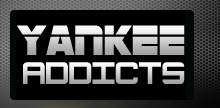 January 31, 2012 · Bill Ford · Jump to comments
Article Source: Bleacher Report - New York Yankees
Gary Sanchez, one of the top prospects in the Yankees' farm system, has developed well and should have a good future with NY.
His 2011 season ended early due to an injury to a finger, but he should have a great season in the minor leagues.
Concerns rose about Sanchez while in the minors because of what appeared to be maturity issues, but he seems to have grown and learned from previous mistakes and behaviors.
His injury and a suspension prevented him from gaining some development in the minors, but that all seems to have been rectified.
Ranked as the seventh-best prospect in the Yankees system prior to the 2010 season, his position moved up to the fourth-best prospect for the 2012 season, according to Baseball America.
Now that Jesus Montero has been traded, Sanchez has been ranked as the best hitting catcher in the New York system.
In two seasons in the minor leagues, Sanchez had 134 hits, 29 doubles, one triple, 25 home runs, 95 RBI and a batting average of .283 with 474 at-bats.
His skills as a backstop have developed well in the Yankees' farm system, and 2012 will show greater development.
He certainly needs more time in the minors, and we won't see him called up anytime soon, but his day will eventually come.
My hope is that in a year or two down the road, he won't be traded away. I'm a proponent of player development and keeping them.
Keep your eyes on Sanchez. He has a great future with the Yankees.
Read more New York Yankees news on BleacherReport.com