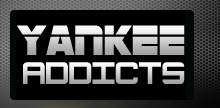 January 23, 2012 · Brian Buckley · Jump to comments
Article Source: Bleacher Report - New York Yankees
Before last week's front office explosion, the New York Yankees offseason was associated with the scores of chirping crickets and rolling tumbleweed. Outside of renegotiating C.C. Sabathia's contract, picking up Nick Swisher's option and resigning Freddy Garcia, it had been a most un-Yankee like off season.
However, after biding his precious time, Brian Cashman struck the market with shrewd assertiveness.
Trading highly touted prospects and signing free agents, he reaffirmed the Yankees primary offseason goal of refurbishing their debatable starting rotation. Some of the faces on the carousel will look familiar, while others will be completely green to the Bronx experience.
In the next 12 months, the club will attempt to reaffirm their supremacy atop the AL East with a group of arms that present questions. We'll find out the final answers in October.