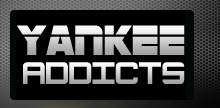 December 21, 2012 · Colin Tansits · Jump to comments
Article Source: Bleacher Report - New York Yankees
As his contract was set to expire at the end of the 2012 season, Nick Swisher made it pretty obvious that he was going to be asking for more money.
But for a Jayson Werth-type contract?
It seems a little over the top that Swisher was looking for that kind of money after being selected to only one All-Star game in four years as a Yankee.
Nonetheless, no matter what Swisher is asking for, the Yankees have made it clear they're uninterested by signing Ichiro Suzuki.
Although many fans may be happy to see Swisher leave, his departure also leaves a hole in the lineup bigger than most may expect.
This year Swisher was tied for third best on the team with a .272 batting average, had the third most runs batted in and led the team in walks.
Swisher's departure may seem less serious with his struggles in the postseason, but his presence will be missed and here are three reasons why.