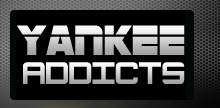 February 8, 2012 · Anthony Pucik · Jump to comments
Article Source: Bleacher Report - New York Yankees
The MLB season is quickly approaching and for the most part the Yankees have had a relatively quite offseason.
Besides the deal sending Jesus Montero to the Mariners for starter Michael Pineda and the free agent signing of Hiroki Kuroda, the Yankees did not sign any of the big names on the market this offseason like Albert Pujols or C.J. Wilson.
However, the Yankees are shopping around for another bat to fill the void in their designated hitter spot in their lineup. Talks have been centered around Raul Ibanez, but also former Yankees Johnny Damon and Hideki Matsui.
I think that it will be more likely that the Yankees pick up Damon or Matsui, former players and fan favorites that have had proven success in the Bronx.
But which one will the Yankees choose to pick?
Either one will most likely just end up being the designated hitter for most of the year, being used in the outfield rarely or most likely never.
From last years statistics, the Yankees could really go either way with Damon or Matsui.
Damon had slightly better numbers than Matsui in most categories but both are viable options. Damon had a .261 batting average, 16 home runs, 73 runs batted in, and a .326 on-base percentage in 150 games to Matsui's .251 average, 12 home runs, 72 runs batted in and .321 on-base percentage in 141 games.
I think that in the end the Yankees will choose to pick up Johnny Damon. Although he is older than Matsui, I think that Damon has more value for the Yankees.
Damon did have the slightly better numbers than Matsui last year. Also, although his speed has greatly deteriorated in the past few years, Damon is faster than Matsui and would be a greater threat on the base paths.
Damon is able to hit the long ball as well as put the ball in play if needed. I feel that Matsui is more of a power guy that is less capable putting the ball in play as opposed to Damon.
Damon or Matsui will most likely be batting in the five or six position in the Yankee lineup, so they will most likely have guys on base when they come up to bat that they will need to drive in.
If I had the choice, and either Damon or Matsui needed to come up to drive in a run, I would go with Damon.
Read more New York Yankees news on BleacherReport.com