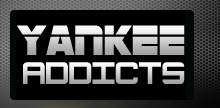 December 2, 2012 · Doug Rush · Jump to comments
Article Source: Bleacher Report - New York Yankees
As of Wednesday night, the Yankees have a vacancy at the catcher spot.
Russell Martin decided to bolt the Bronx and sign a two-year, $17 million deal with the Pittsburgh Pirates.
With Martin now gone, it leaves a lot of uncertainty and a lot of questions.
There are free agents like Mike Napoli and A.J. Pierzynski, but right now, both seem unlikely.
The current Yankees catchers are Francisco Cervelli and Chris Stewart; both are better suited as backups and defensive replacements.
In the minors, there is Austin Romine, whose progress has been hampered by injuries, and Gary Sanchez, who is still a few years away from being major league ready.
So, in the simplest of terms, there's a gigantic hole in the lineup and in the field that Yankees GM Brian Cashman needs to try and fill.
One story made a pretty interesting trade suggestion involving the Yankees and Twins.
Frankie Garcia of Sports World Report made the trade suggestion of swapping Joe Mauer for Curtis Granderson.
It seems like a crazy and off-the-wall trade idea, and I know a lot of you might be tired of hearing Mauer's name come up.
In this latest story, let's discuss why the trade could work and why it couldn't work.