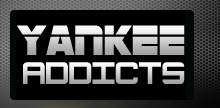 October 4, 2010 · Eric Ball · Jump to comments
Article Source: Bleacher Report - New York Yankees
The 2010 MLB postseason has finally arrived.
After 162 games of scratching and clawing through the league, only eight teams remain. Each club has gotten here because of the supreme talent on its team.
Each team remaining has at least two players that are in the top tier of the league. Expect these 25 players to have the biggest impact in October. Whether it be a key home-run or a huge strikeout, elite players have the potential to etch their name in the history books.
Here are the best 25 players that are still playing relevant baseball in 2010 (in no particular order).