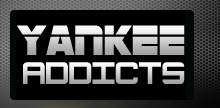 November 15, 2011 · Rick Weiner · Jump to comments
Article Source: Bleacher Report - New York Yankees
The New York Yankees are one of eight teams that have either asked for copies of Grady Sizemore's medical records or reached out to his agent Joe Urbon to express their interest in the 28-year-old free-agent outfielder, according to ESPN's Jerry Crasnick (ESPN Insider required to view link).
Once considered to be one of the up-and-coming stars of the league, Sizemore has seen his career derailed by injuries, appearing in a total of 210 games over the past three seasons.
During that time span, he has had surgery on his left elbow, had surgery twice to repair a sports hernia and has undergone micro-fracture surgery on his right knee, which he re-injured twice in 2011 after his return.
Sizemore's speed allowed him to cover large amounts of ground quickly, and his penchant for making acrobatic catches resulted in him winning two Gold Glove Awards, though his throwing arm is one of the weaker ones in the league.
His best season came in 2006, where he hit .290 with a .907 OPS to go along with 28 home runs, 76 RBI, 22 stolen bases and a league-leading 134 runs scored and 53 doubles.
A lefty bat, Sizemore hit the first grand slam in the new Yankee Stadium off former Yankees reliever Damaso Marte on April 16, 2009.
For the Yankees, Sizemore would replace Andruw Jones as the fourth outfielder and pinch hitter off the bench.
Sizemore has multiple suitors, and most are likely to offer him a one-year contract that is heavily incentive-laden, based on the amount of games played.
The chance to play for a perennial World Series contender could entice Sizemore to come to the Bronx, perhaps on a one-year deal in the $5 or $6 million range with a mutual option for 2013.
With no real outfield reinforcements on the horizon in the minors, Sizemore could become a valuable piece of the puzzle for Yankees manager Joe Girardi.
At the end of the day, the Yankees have spent far more money on players with far less upside.
Grady Sizemore is a player worth taking a flier on.
Read more New York Yankees news on BleacherReport.com