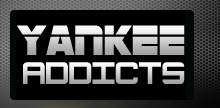 December 12, 2012 · Mike Rosenbaum · Jump to comments
Article Source: Bleacher Report - New York Yankees
With numerous top-50 prospects and an assemblage of other high-upside talent, the New York Yankees may potentially boast one of the game's best homegrown rosters as early as the 2015 season.
Although the thought of an influx of core young players in a few years is certainly exciting, it won't help the organization address their perceived needs this offseason.
In the wake of the news that Alex Rodriguez's hip injury could keep him out for six months, according to Yahoo! Sports' Jeff Passan, the Yankees immediately began their search for a temporary replacement at the hot corner. Therefore, it came as a surprise when they missed out on Eric Chavez (Diamondbacks) and Jeff Keppinger (White Sox) last week.
As a result—and thanks to a dwindling free-agent market for third basemen—the Yankees were forced to offer their long-time rival, Kevin Youkilis, a one-year, $12 million contract—a deal that was reportedly agreed upon by Fox Sports' Ken Rosenthal yesterday afternoon.
Rather than overpaying Youkilis out of panic and/or necessity, the organization would have benefited from the ability to promote a player from within to serve as a stop-gap until Rodriguez's return.
However, due to their lack of big league-ready talent in the high-minors, the Yankees have no choice but to target the best value on the open market—something that's easier said than done if they plan to avoid the league's luxury tax.
The Bombers may find themselves in a similar situation in the coming months, too, as they've yet to address the catching situation for the 2013 season. At the moment, the organization is seemingly prepared to mix and match three different catchers: Chris Stewart, Francisco Cervelli and Austin Romine.
Sadly, the best of the three options appears to be the 24-year-old, Romine, who has batted .278/.333/.414 in 458 career minor league games. The Yankees do have a high-upside catching prospect in Gary Sanchez; however, he's never played a game above High-A and I doubt he'll be able to remain behind the plate.
If the organization desires to avoid the luxury tax in upcoming seasons, then it's conceivable that they'll attempt to trade several of their top-ranked prospects. But even with no tax in play, I'm not entirely certain that they would've been able to move some of their high-upside talent in exchange for a proven big leaguer.
Yes, the Yankees have an impressive crop of outfield prospects in Mason Williams, Slade Heathcott, Tyler Austin and Ramon Flores. However, between the four players, they've played three games above High-A. Furthermore, there's always considerable uncertainty and risk with high-ceiling prospects like Williams and Heathcott, as anything can happen between now and their big league debut—if they even make it that far.
Similarly, the organization's dearth of pitching prospects discourages the type of trades that would typically net them major league talent. Had Manny Banuelos not needed Tommy John surgery and pitched for most of the 2012 season, then the organization may have dangled him as trade bait with the hope of landing an affordable backstop.
Regardless; until their top prospects reach the upper levels and establish themselves as future major leaguers, the Yankees will be forced to overpay for temporary talent based on necessity rather than preference.
Read more New York Yankees news on BleacherReport.com