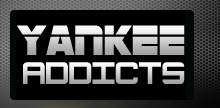 October 26, 2010 · NY Sports Digest · Jump to comments
Article Source: Bleacher Report - New York Yankees
By Eric Marmon
When Joe Girardi shuffled his starting rotation between the New York Yankees ALDS against the Twins and the ALCS against Texas, everyone in NYC assumed it was a strategic maneuver to get Andy Pettitte in position to pitch a potential Game 7. The move was noticeable, but the reaction was mostly ho-hum.
Well, not anymore. Yankees manager Joe Girardi admitted this week that Pettitte's back and injured hamstring were in such bad shape following his impressive seven-inning, two-run Game 2 victory in the ALDS that he would have been unable to throw in Game 5 of that series. Girardi also revealed that the rotation shuffle in the ALCS was a means of getting the Yankee-lifer as much rest as possible, as there was a chance he could miss the ALCS altogether.
"We thought it was in his best interest if we could give him another couple of days, he might be able to get through the series," Girardi said on Monday.
This certainly won't help curtail the "Yankees are too old" conversation…but it all becomes moot if Andy opts to retire anyway. It also highlights the already obvious need for more starting pitching. Cliff Lee, anyone? Oh wait, no. Y'all spat on his wife.
Perhaps the only thing in sports more beloved by the fans than winning is coming back on your shield. Kirk Gibson's home run, Curt Schilling's bloody sock, the unquestionable effort being put on display despite the very obvious physical pain being caused… this is what we love. While the revelation that he was playing hurt matters little now, the fact that he played through pain is just another remarkable footnote in the memorable career of Andy Pettitte.
And it gives true Yankees fans just another reason to love the guy.
This article originally appeared on The NY Sports Digest. If it's offbeat and it's about the Mets, Yankees, Knicks, Giants, Jets, Islanders or Rangers, then The Digest is the spot to get it. Stop with the mega-sites and get a feel for the true pulse of New York at www.NYSportsDigest.com
Possibly Related Posts:
Read more New York Yankees news on BleacherReport.com