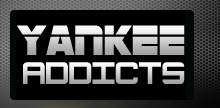 News published by
December 3, 2010
This is going to sound mean. In fact, it will be in tune with the entire Yankees game plan this offseason. Derek Jeter...where are the other offers that you're looking for to ...
November 3, 2010
I've, perhaps, been exhausting in my stance on the upcoming negotiations between the New York Yankees and Derek Jeter, as well as Jeter's future productivity. The Yankees should not bend unflappably to ...
October 28, 2010
Hello there! Perhaps you recognize me? You'll often see Joe Girardi, manager of the New York Yankees, bent over me in the team's dugout, flipping through my pages and perusing ...
October 16, 2010
The look on Nolan Ryan's face toward the end of the top half of the eight inning said it all. What was happening was shocking, unfathomable and frustrating. Couldn't any ...
October 12, 2010
OK, so 2010 isn't even in the books yet.But it's never to early to start talking about 2011, especially when the team is expected to compete for a championship each ...
September 30, 2010
The twilight years of any legendary athlete's career are often filled with hilarious hyperbole from fans and sports analysts. When a player reaches a certain age, which varies based on the sport ...
September 24, 2010
The Yankees have seemingly been stuck in the mud as of late. Despite remaining one of the best teams in all of Major League Baseball, they have unarguably had a ...