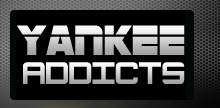 News published by
August 16, 2011
In a move, possibly only explained as "irrelevant" and "for organizational depth," the New York Yankees have brought back relief pitcher and arm-abuse victim Scott Proctor. For those of you ...
January 20, 2011
Late Thursday afternoon, after nearly an entire offseason of position-player inactivity, Yankee GM Brian Cashman inked the former Braves superstar to a one-year, $2 million contract, with another $1.2 million ...
December 5, 2009
To say the Yankees have had it good behind the plate for the majority of their history would be an understatement.    Dating all the way back to the 1930s, and the ...