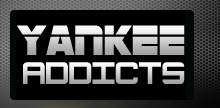 News published by
December 2, 2009
MLB Trade Rumors has reported  that the New York Yankees are interested in former Boston Red Sox reliever Brandon Lyon. Lyon, a Type B free agent, formerly of the Detroit Tigers, ...
September 9, 2009
Congratulations Derek Jeter. You are a class act who deserves his 2,721 career hits. Congratulations Derek Jeter. You've played for America's Team, won four World Series and are destined for the Hall of ...
July 17, 2009
"Oh crap." Those were the first words that I spoke after reading that my favorite player, Eric Hinske, had been traded from the Pittsburgh Pirates (my second favorite team) to my ...
June 30, 2009
From 2006 to 2007, Eric Hinske was my favorite player on the Boston Red Sox. I don't know why. I liked the way the guy played. He didn't hit for ...